Buy The Best Smart Door Lock In Dubai, UAE
A digital door lock is a good option if you are looking for a high-tech solution that offers the ultimate security. Security Supplies offers you the best digital door locks in Dubai, UAE. Because we have a variety of smart locks from renowned brands. 
Why Are Digital Door Locks Worth The Investment?
Digital door locks are an increasingly popular option for commercial and residential UAE premises. Unlike traditional locks that use a key to unlock the door, smart doors require a code, card, or fingerprint to open. As a result, it makes them much more challenging to pick and significantly reduces the risk of a break-in. Smart locks also allow you to set up multiple user codes. So, you can give each family member or employee their code. In addition, it makes it easy to keep track of who is coming and going. 
Features of our smart door locks
Double Authentication

Random security code feature

Keyless touchpad entry system

Quickly pairs with IOS and Android systems

Secure way of getting in and out of your house

100% Wire-free, Home Security at its finest
Top 3 Digital Door Locks in the UAE
Yale- Digital Door Lock Fingerprint: It is a smart solution for residential & commercial applications. It uses an advanced algorithm that captures and analyzes a person's unique fingerprint profile. Moreover, a fingerprint sensor is susceptible and can capture even partial fingerprints.
Samsung-Smart Door Lock SHP-P50– You can use Bluetooth Low Energy (BLE) technology to communicate with your smartphone, allowing you to unlock your door with a simple tap. The lock also features a built-in fingerprint sensor for added security.  
Philips Alpha Smart Door Lock– It is a top-of-the-line security solution that features hidden PIN code technology. In addition, it allows you to enter any random number combinations to get identified successfully. The lock also comes with a backlit keypad, which makes it easy to see in low-light conditions.
So, browse smart door locks on our website and get your desired product on your doorstep.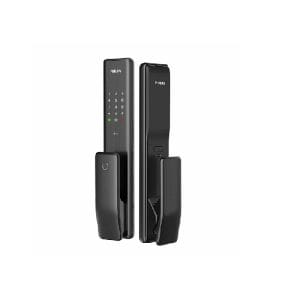 Philips Alpha Smart Door Lock EasyKey With simplicity brought by speedy unlock and auto lock and safety ensured by dual